If you are interested in the theory, you want Michael Ellis's page and his software mentioned below,
you will find that the pages have been revised from my original design.
The links below along with the spreadsheets will allow you to have the complete design information.
Note: the software was written in VB3 and requires a 32 bit OS like XP
[You knew there was a good reason to keep that old box !]
http://michaelgellis.tripod.com/direct.html or in PDF format http://michaelgellis.tripod.com/Directional.pdf
Description of software: http://michaelgellis.tripod.com/rfcoupler.html
Actual Software http://michaelgellis.tripod.com/zip/dcwin.zip
Note: for some reason the link above does not yield a download but an error about not available.
Copy the link and past into the URL line on your browser and the download works !
Some Supplementary spreadsheets that I used
Power levels at input and ports on Directional Couplers.xls
If all you want is a simple circuit, Kits & Parts still sells their kit SWR Bridge Kit
http://www.kitsandparts.com/bridge1.4.php
Alex Directional Coupler for Hermes-Lite 2 and other applications
The Circuit below provides a buffered low impedance output
that is compatible with software that is used with openHPSDR
hardware and Hermes-Lite 2. The board can also be used stand alone
with meters on the outputs or with an Arduino and your own display system.
See below for analysis file and spreadsheet
Alex Directional Coupler for HL2 - Others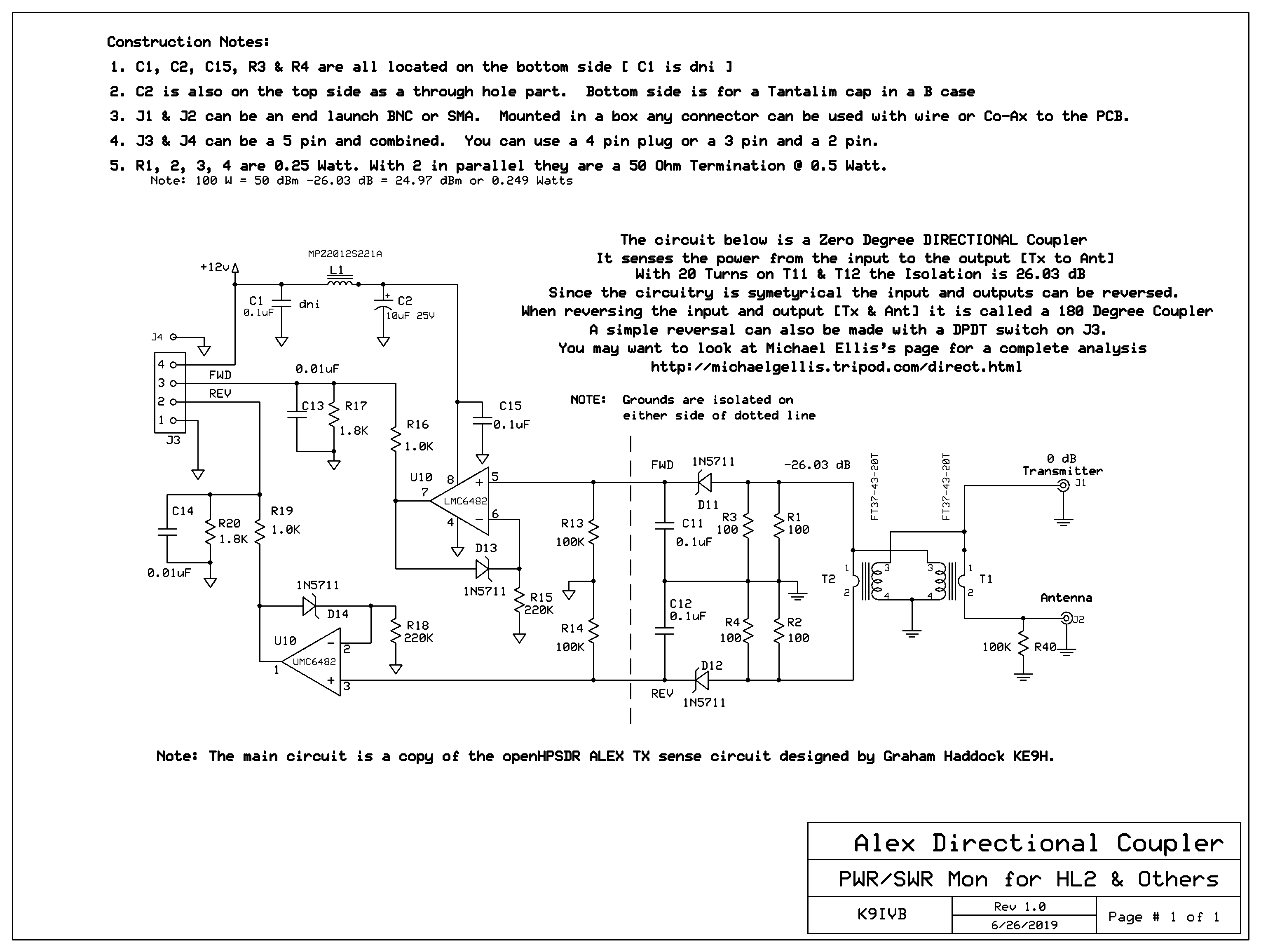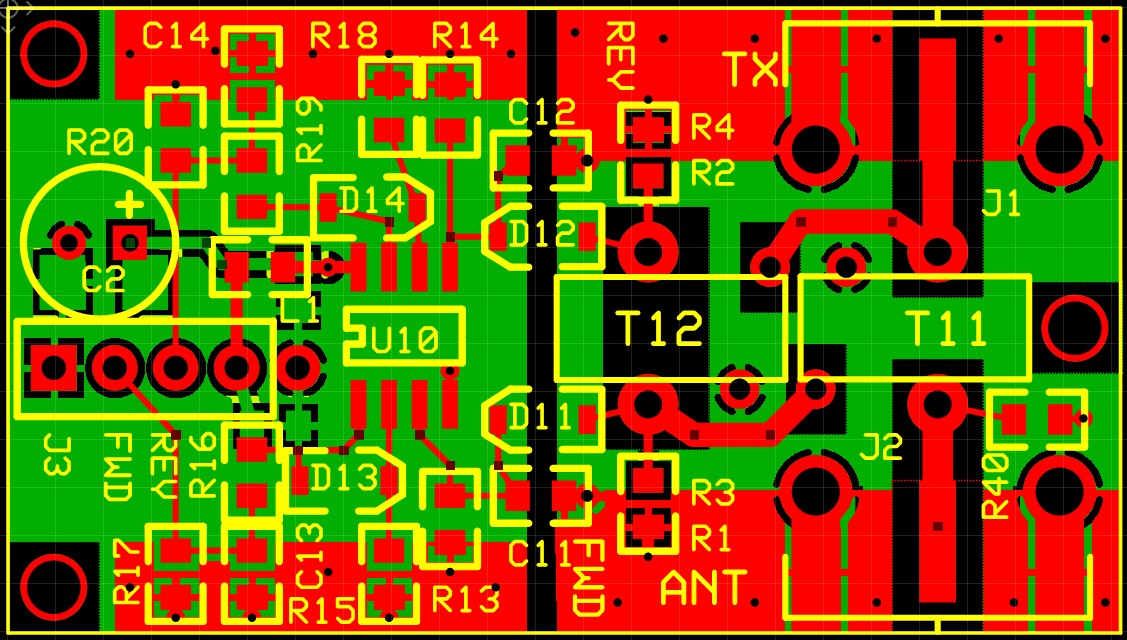 Documentation Alex Directional Coupler HL2 Others.pdf
Gerbers Alex Dir Cplr 4 HL2 oth_06252019.zip
Link to OSH Park - 3@ $9.45 https://oshpark.com/shared_projects/IUwvbBNs
Analysis of the Alex power sensing circuit and expected output vs input power
Theoretical Analysis of the openHPSDR ALEX Power Sense Circuit.pdf
and the spreadsheet for the calculations
Perfect Theoretical analysis of Alex Directional Coupler.xls
New Directional Coupler For Test, Watt meter, Pure Signal etc.
This is a revised version of the original design below using SMT parts.
The circuit below assumes a 100 Watt transmitter and the use of the Dual AD8307 board
found on my RF_Power_Meter page to make a SWR Power meter.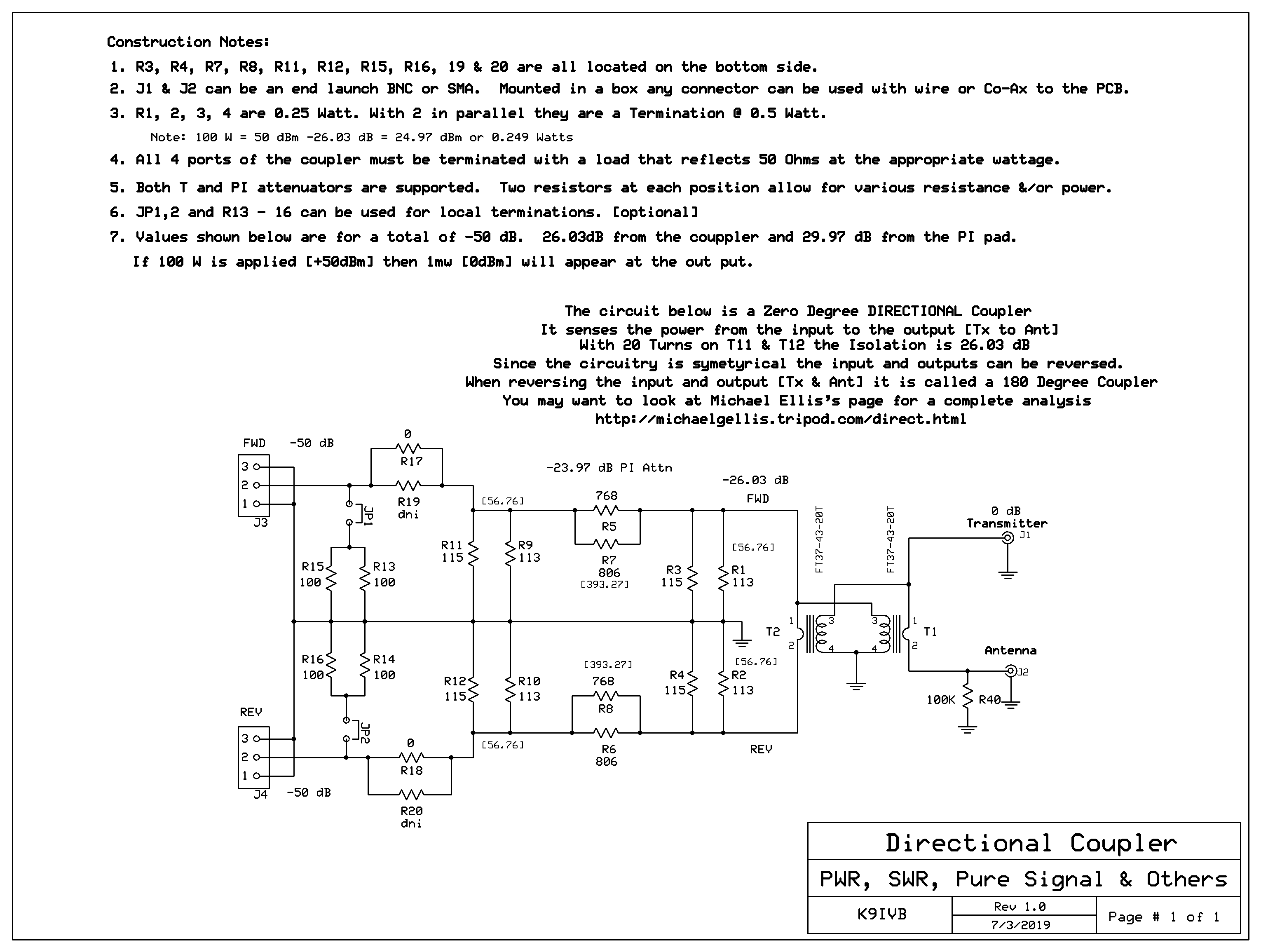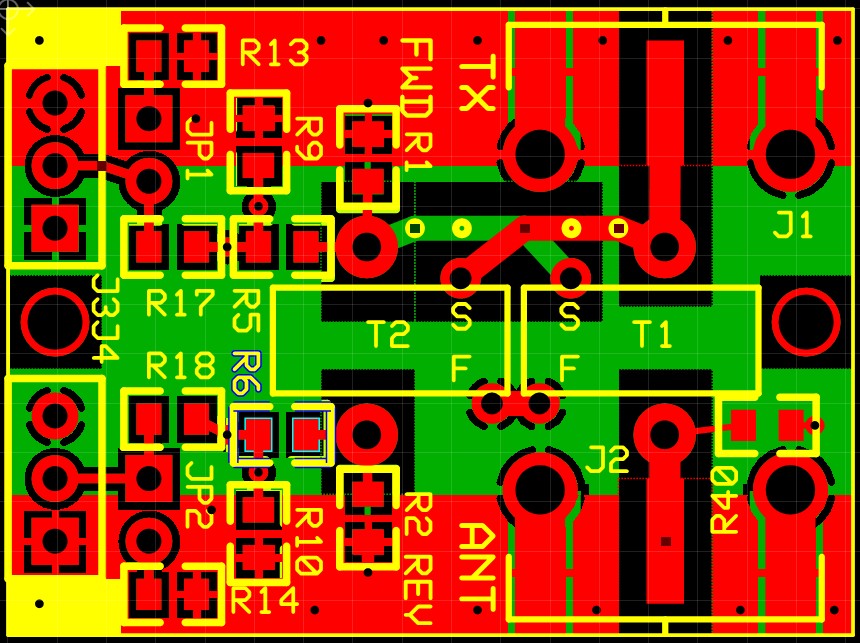 Documentation New Directional Coupler.pdf
Gerbers New_DC_ 07032019.zip
Link to OSH Park - 3@ $6.80 https://oshpark.com/shared_projects/IrUiSZL7
Low Power Directional Coupler
This was made to work with my dual AD8307 board or an AD8302 Module like this ebay part.
The Dual AD8307 info can be found on my RF_Power_Meter page.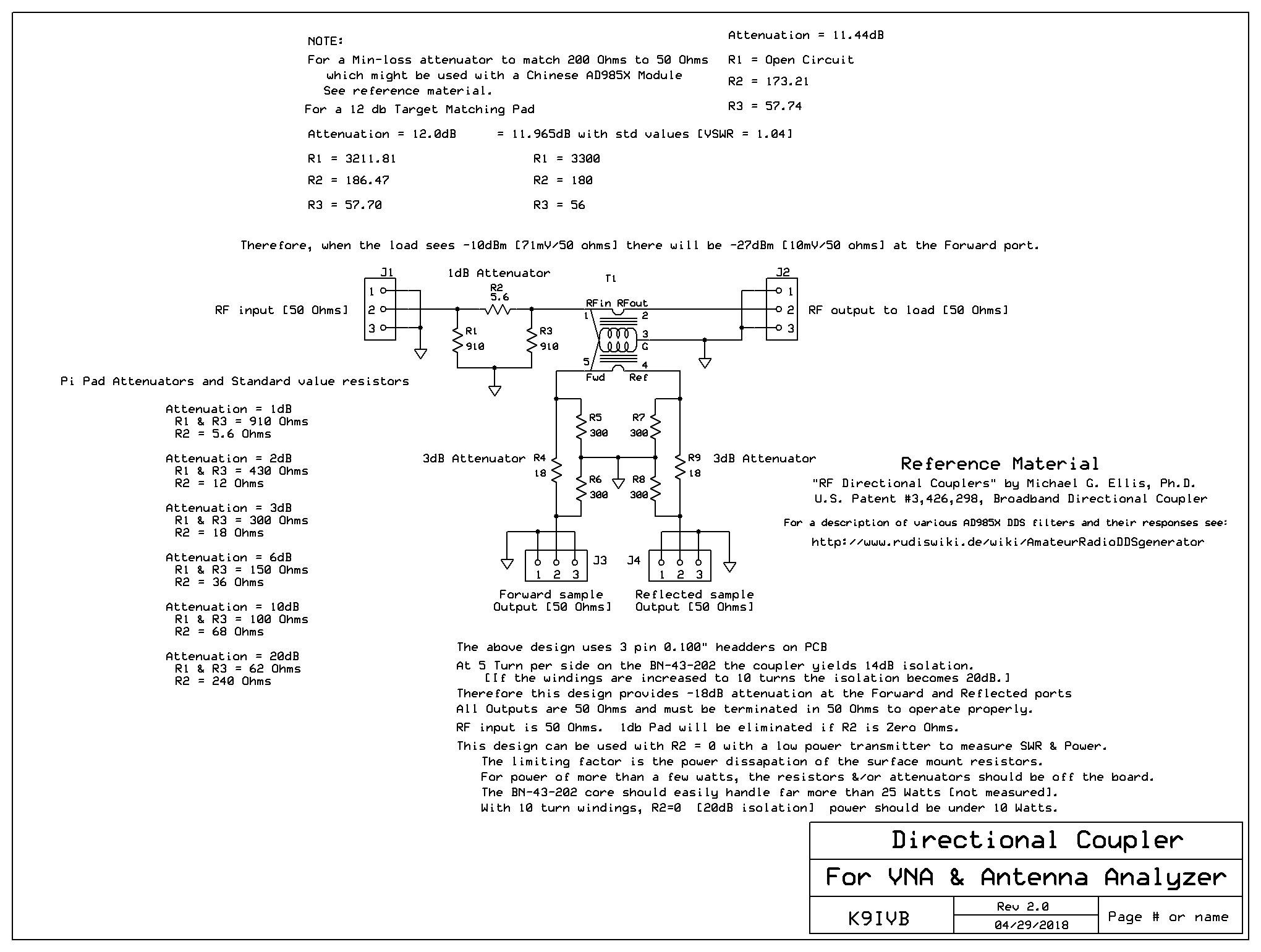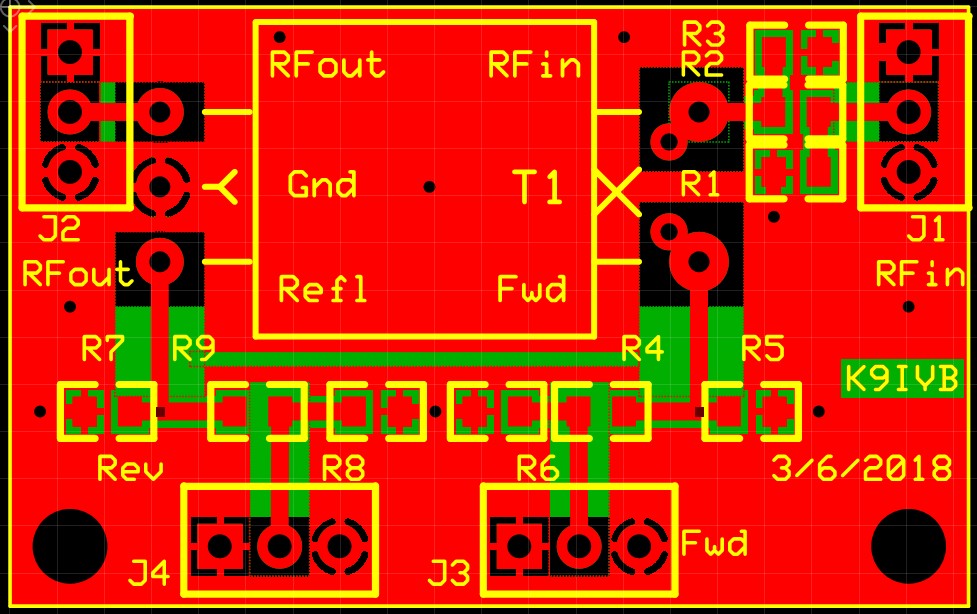 Schematic Directional Coupler and Detector.pdf
Gerbers AA Directional Coupler_03162018.zip There are no OSH Park link for this board.
Original Directional Coupler Design
I originally up this board to be a piece of test equipment to be used with the
RF_Power_Meter, but it is also useable for Pure Signal
Later found out it is very similar to the Elcraft CP-1 Coupler.
If you are interested in the theory you want Michael Ellis's page and his Excel spreadsheet
http://michaelgellis.tripod.com/direct.html
Note that the turns ratios are independent of power levels.
The core size, spacing and insulation determine the max power level.
For higher power a larger PCB and cores would be necessary.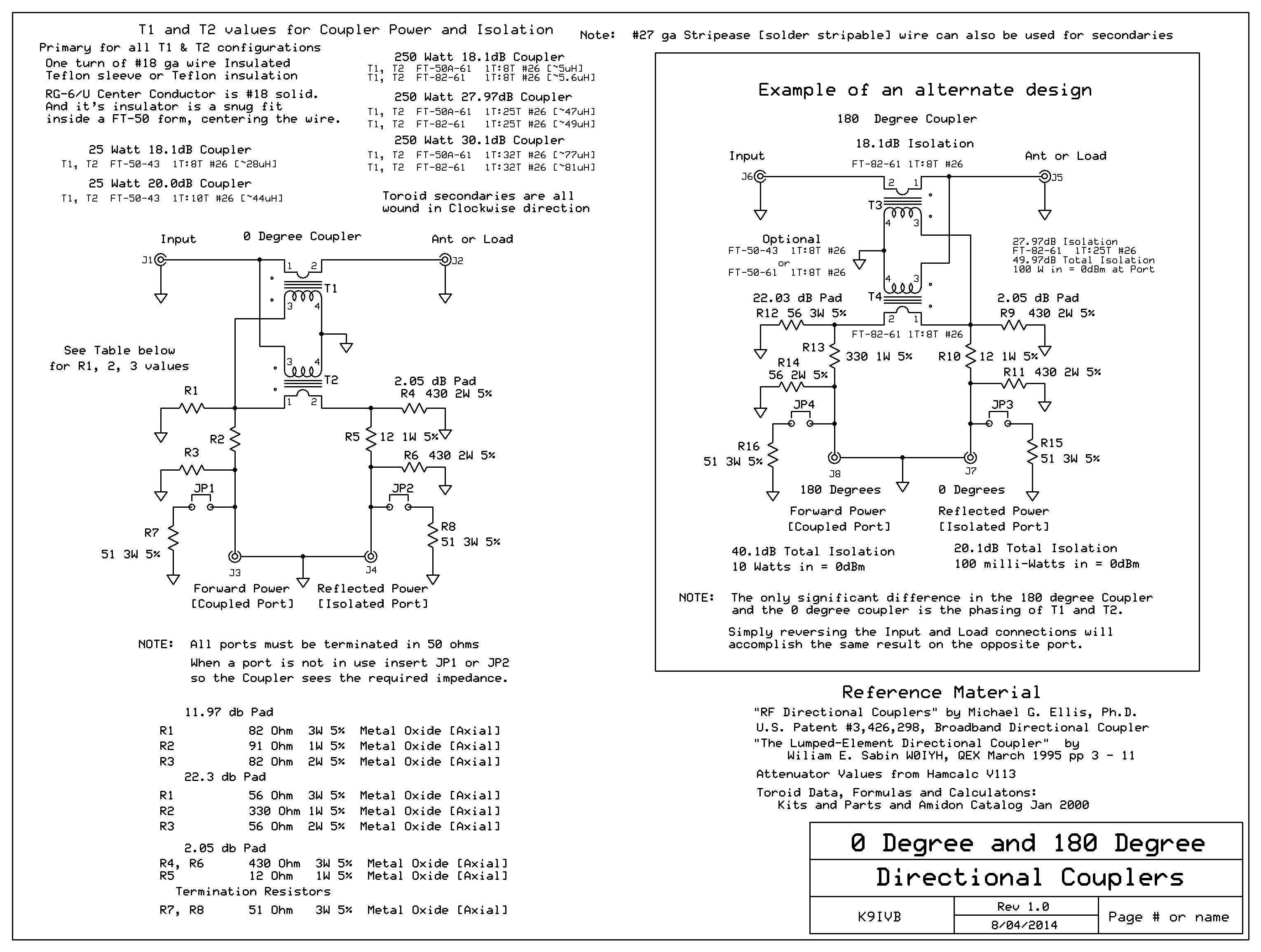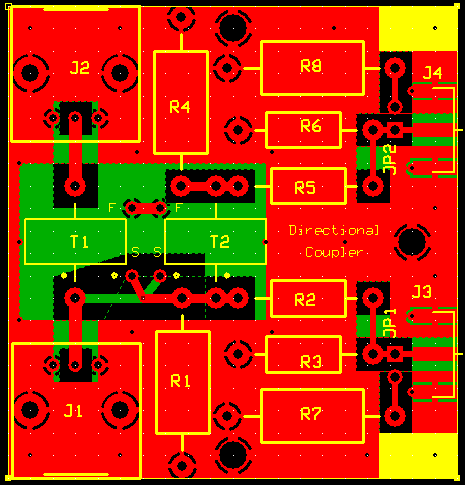 Documentation
Schematic: Directional Coupler.pdf
BOM: RF Coupler BOM.pdf
Gerbers: Directional Coupler_08052014.zip

Link to OSH Park: https://oshpark.com/shared_projects/9u4trI7X
NOTE: The link to OSH Park also allow ordering PCBs